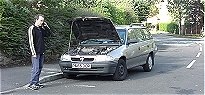 Click here for The AA's online discount, 20% off AA Breakdown cover when you buy online

Compare Breakdown Cover deals from the three major UK Services, including...

The AA, The RAC, Green Flag and European Breakdown Cover
Looking for a hire car? OnAirportcarhire.com is one of Europe's leading car rental brokers, providing quality, low cost car hire throughout the world at major cities, airports and holiday resorts. Click here to visit the site.



Click here for a list of all the main Car Hire / Rental providers
Latest Roadworks direct from the UK Highways Agency

We can tell you if the car has a finance agreement (HP etc) recorded against it. If the car has been written off as a total loss by an insurance company. If the car is at high risk of fraud or theft and is being tracked by a third party.

AA Car Data Check
Direct links to all the major emergency services.
(Note most of these sites also have links to more regionally specific sites and services).

In an emergency Dial 999 for...

Police Force
Fire Service
Ambulance Service
Lifeboat Service
HM Coastguard
Maritime and Coastguard Agency
Mountain Rescue

NHS Direct Tel. 0845 4647

Smell Gas? Tel.0800 111999
A full range of Atlases for UK, Europe and beyond! Guides to popular UK Citys


UK Road Maps
In a spin about GPS? Overwhelmed and confused with the huge range of GPS products available.




Let Streetfinder break it down and help you find the product that's best for you - with our GPS GUIDE | TomTom One | Garmin Streetpilot i3 | Mitac Mio P350 And P550 | The New Mio H610 | Memory-Map Review | TomTom ONE New Edition | How To : Create Your Own POIs | Garmin Nuvi 300 | Sony nav-u NV-U51 and NV-U71T | Nokia 330 Auto Navigation | Garmin Forerunner 101 | Mitac Mio C250 DigiWalker | Garmin Street Pilot C550 | Navman F20 | Autoroute 2007 | Medion GoPal 210 | Amaryllo Purity Bluetooth receiver | Garmin ETrex GPS Navigator | TomTom 910s hit with virus | 1 Second Fix With New GPS Chip | New Mio C510E | Packard Bell Compasseo | TomTom GO 940 Live | Binatone X350 GPS Review | Garmin Nuvifone Screenshots | AA Route Planner 2008
The TomTom ONE in-car navigator

TomTom ONE is a revolution in in-car navigation. Easy to use, a modern design and a great price, the Tom Tom Go! is set to be a winner.

Read our TomTom Reviews - TomTom ONE TomTom GO 300 | TomTom GO 500 | TomTom GO 700 | TomTom Accessories | TomTom External Antenna Find the Cheapest TomTom and Tom Tom ONE





Looking for beautiful antique furniture to adorn your home?

Antiques-Atlas.com is a unique location based atlas to 1000s of Antique Centres, Shops and Fairs througout the UK and Ireland - all navigable by maps - simply select your region and away you go.

There is also a comprehensive catalogue of Antiques for Sale and extensive 2014 UK antiques fairs listings.

www.Antiques-Atlas.com
POI EDITOR, a free online POI tool.

Create, Edit, View and Convert Points of Interest.

Supports TomTom .OV2, .ASC, Navman CSV, Miomap CSV, Garmin CSV, KML and GPX file formats

www.poieditor.com




Specialists in Welfare and Mess Vehicle Hire and standard Contract Van Hire in the UK

Our product range includes welfare and full mess vehicles (including toilets), mobile workshops, municipal vehicles and standard vehicles. This comprehensive list allows Fastline to cater for all your transport needs...
Crewmaster Messing and Welfare Van.
Vehicle Conversions
Commercial Vehicle Range
Vehicle Design Facility
Finance Options
For further details, a quote and a free guide to contract hire - click here.
Compare prices on popular GPS devices here.
Garmin Nuvi 300

Mitac Mio P350

Mitac Mio P550

NavMan S30

TomTom GO 510

TomTom GO 910

TomTom ONE (Europe)

TomTom ONE (Regional Great Britain)





Garmin's new Street Pilot c320 and c330 offer distinctive sleek styling and all of the functions of a premium in-dash GPS system at a fraction of the cost.
All the latest and greatest route planning, driving, mapping, and touring software.




The End for A A Autoroute 2007?
AA Autoroute