TomTom ONE New Edition
By D Dunbar in GPS. October 17, 2006
It's been a year since the release of the best selling entry level TomTom. Version two of this popular device sees some significant changes both cosmetically and internally.
You will immediately notice that the new TomTom has been given a full make-over and as a result is much thinner (at 96mm width x 82mm height x 25mm depth, TomTom claims it will slip into any shirt pocket), sleeker and generally better looking than previous models.
Like most Sat Navs these days the TomTom ONE uses the SiRF Star III chipset. No change there then as this was the chipset used in the older ONE. SiRF Star III means the reception quality is excellent, often able to pick up satellites indoors (which means using it in a car should cause no trouble at all) and that all important Time To First Fix (TTFF) will be seconds rather than minutes as found on the older chipsets.
With the new ONE, TomTom are clearly trying to produce a lower cost unit. And sure enough, if we check the specs, we can see the processor speed is now 266Mhz down from 380Mhz of the older model, the internal PCBs have been reduced from three to one and, probably more important to the end user, there is no external antenna or headphone socket.
Despite the slower CPU initial reports are that the software performs at the same speed as previous ONE models. This may be down to clever code optimisation by TomTom but it remains to be seen how this slower CPU will affect general use, especially loading and processing of large amounts of POI data. One feature that hasn't been axed is support for Bluetooth connectivity to your mobile. This allows the ONE to grab traffic / weather information from the TomTom PLUS service, of course at an additional cost. The Bluetooth is limited to PLUS services and doesn't allow handsfree voice calls via your mobile like the GO models.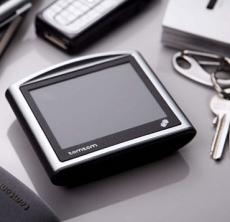 The new slimline TomTom ONE
There will be two versions available in the UK, 'TomTom ONE Great Britain' or 'regional' and 'TomTom ONE Europe'. Both identical apart from the maps of course, the latter containing all the maps of Western Europe. Expect to pay around £190 for the GB version and £250 for European.
In all, TomTom have succeeded in producing a low cost model without sacrificing the build quality or indeed screen size. The minor cuts such as the lack of headphone or antenna socket will probably have little or no effect for the average user. The new TomTom ONE promises to be another excellent product.
TomTom ONE (V2) Price Comparison Chart
Related Articles : Garmin Street Pilot C550 SatNav, Sony Nav-u NV-U51 And NV-U71T, Garmin Nuvi 300, How To Create Your Own POIs With POIEditor.com, The New TomTom ONE, The New Mio H610, TomTom 910s Hit With Virus
GPS
UK Search
Software