TomTom One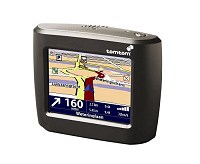 With TomTom ONE you simply get everything you need. TomTom ONE is an elegant, wallet-sized device with a built-in speaker and SiRF Star III based GPS antenna. It comes with the very latest Summer 2005 detailed map of Great Britain. The easy-fix removable car mount is ingenious and the nifty little cigarette lighter charger means ONE can be re-charging itself even as you're driving along.
TomTom ONE is the no-nonsense, user-friendly, portable car navigation system. It combines an easy-to-use touchscreen with a sleek design, to get you straight from A to B.
Imagine just hopping into your car, plugging in your TomTom ONE, tapping in the address you want to go to, and letting your ONE do the rest.
Instantly working out the most efficient route to bring you right to the door of your destination. And getting you there with clear 3-D maps and instructions in the language and voice that you've selected.
Box Contents :
Secure Digital Card


Power Adapter Cigarette Lighter Charger


Mount Easy-to-install Suction Cup


PC Connection USB Cable


Reviews / Buy at Amazon - £249.98
TomTom GO Comparison
| | TomTom GO 300 | TomTom GO 500 | TomTom GO 700 |
| --- | --- | --- | --- |
| TomTom GO Unit | | | |
| Software and maps on SD Card | | | |
| Software and maps AND Major Roads of Europe on SD | | | |
| Pre-installed maps of entire European region on 2.5GB internal hard drive. | | | |
| Built in Bluetooth transceiver | | | |
| Hands free phone capability | | | |
| Enhanced GPS receiver | | | |
| Built-in loudspeaker | | | |
| Rechargeable battery for wireless use | | | |
| Remote control + batteries | | accessory | |
| Assisted Satellite Navigation (for use in tunnels) | | | |
| Product code and registration card | | | |
| Suction mount amp; docking shoe | | | |
| Processor | 200Mhz | 400Mhz | 400Mhz |
| Memory | 32MB | 32MB | 64MB |
| Cigarette lighter charge/adapter | | | |
| Power cable and plug adapters | accessory | | |
| USB cable | | | |
| CD-ROM User Manual | | | |
| Carry case + screen cloth | | | |
| Easy set-up poster and quick start guide | | | |
| Accessories catalogue | | | |
| TomTom PLUS catalogue | | | |
TomTom One
GPS Navigation System - Amazon Link
Just plug in, switch on & GO: no installation or activation necessary
Door-to-door planning: detailed maps of your region, Crystal-clear 3D graphics
The latest street-level map of your country. Inc. Post Codes
Easy to take from car to car
Built-in Bluetooth connection
Other units you may be interested in : StreetPilot c320, StreetPilot c330, NavMan ICN-510, TomTom GO 300,TomTom GO 500, TomTom GO 700, TomTom GO Rider
TomTom Go : Questions, Discussions and Reviews
Pages :
Previous
[1]
[2]
[3]
[4]
[5]
[6]
[7]
[8]
[9]
[10]
[11]
[12]
[13]
[14]
[15]
[16]
[17]
[18]
[19]
[20]
[21]
[22]
[23]
[24]
25
SD Cards Compatability?
Anyone know if I can use the sd card that came with a GO 510 in a GO 300?


Posted by Jim on 30/12/2006
NEW MAP 4 TOMTOM ONE
hi can some 1 help me out a m8 gave me the new map for the tom tom hes has the 300 i put it on a sd card and when i put it on it asked 4 a code i went to www.ttcode.com and got the code but it say its wrong ?? need help will i have to buy the maps and not get them of a m8

Posted by JOHN on 23/1/2007
Hgv Drivers
Tom Tom does not have weight limits. But I have been told you can download them from the internet. Trying to find out which site this is. You can download bridge heights from tomtompoi.net for a cost. Hope this helps

Posted by Phil on 14/2/2007
Pages : Previous [1] [2] [3] [4] [5] [6] [7] [8] [9] [10] [11] [12] [13] [14] [15] [16] [17] [18] [19] [20] [21] [22] [23] [24] 25
Reply / Post a Comment
TomTom Go
|
Cheap TomTom Go - Price Comparison
|
Tom Tom Photo Gallery
|
TomTom GO External Antenna
|
TomTom Accessories
|
TomTom Go Speed Cameras
|
Tom Tom Go Car Mount Kit
|
TomTom Go Front Covers