Garmin StreetPilot C330 - GPS Navigation Unit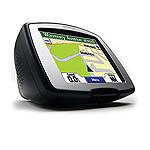 Our StreetPilot "c-series" GPS navigators feature a simple touchscreen interface, with automatic route calculation to any destination and turn-by-turn voice-prompted directions along the way. Selecting a destination is straightforward and requires only a limited amount of input from the user. Plus, the
StreetPilot c320
and
StreetPilot c330
allow you to choose between a three-dimensional navigation view or the more traditional "bird's eye" overhead view.
For the ultimate out-of-the-box convenience, the StreetPilot c330 comes pre-loaded with highly detailed MapSource City Select street data. The database features an industry-leading five million-plus points of interest—including hotels, restaurants, gas stations, ATMs, and attractions. (The c320 comes with a 128 MB SD card and a MapSource City Select CD-ROM for data transfer from a PC via a USB connection.)
The centerpiece of both units is a bright, 3.5-inch diagonal, 16-bit color display that makes navigation a snap. The StreetPilot c330 features dual integrated speakers for high-quality voice prompts, and an internal lithium-ion battery for out-of-car route planning.
The new StreetPilot c-series boasts distinctive and sleek styling—the only buttons are a rotary volume knob and an on/off switch. The device is secured by a suction-mount cradle that fastens to the windshield for easy portability between vehicles. Users can customize their unit's appearance with an array of colored faceplates (sold separately).
Garmin StreetPilot c330
What you get :
StreetPilot c330 receiver
Vehicle suction cup mount w/12-volt adapter
PC/USB interface cable
A/C power adapter
Quick-reference guide and owner's manual
Atlantic Recreational Basemap
MapSource City Select Europe map data
StreetPilot c330 features
WAAS-enabled 12 parallel channel GPS
Built-in patch antenna; MCX-type connector for optional external GPS antenna connection
Pre-programmed internal memory
Audible and visual navigation instructions and warnings
Display: 2.8" W x 2.1" H (3.5" diag.), 320 x 240 pixels; QVGA transflective TFT with 16-bit color; 64K colors; bright white LED backlight and touch screen
Unit dimensions: 4.4" W x 3.2" H x 2.8" D
Weight: 9.45 ounces
Built-in lithium ion battery for trip planning
Integrated suction cup mounting system provides easy adjustment and quick release
USB interface
Other units you may be interested in : StreetPilot c320, TomTom GO 300, TomTom GO 500, TomTom GO 700.
Garmin StreetPilot : Questions, Discussions and Reviews
Pages :
1
tomtom streetpilot comparison
How does this compare to the new TOMTOM GOS?

Posted by GP YES! on 12/4/2005
comparison
we'll have to wait until they're both released next month to really test them. I think TomTom are way ahead with their specs and better priced.

Posted by Bod on 13/4/2005
better than tomtom
These look excellent compared to the ugly 'fisher price' design of the tomtoms.

Posted by Fak on 18/5/2005
sat nav
Has tom tom700 and garmin c330 have irish maps preloaded

Posted by pat madden on 29/5/2005
Pages : 1
Reply / Post a Comment